ETH Zurich : Computer Science : Pervasive Computing : Distributed Systems : Research : Mobile Interaction
Mobile Interaction touching Augmented Reality and Context Awareness
A Research Topic of the Distributed Systems Group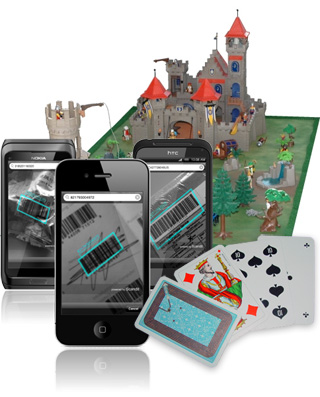 A large part of the information needs in everyday settings is directly related to real-world entities, like objects, places, and people. Attaching information to those entities thus has many benefits for the quality of interaction between humans and their environment. For example, an object could provide users with its own object-history, which could be used to infer object relationships and interaction contexts in which the physical artifact has taken part. By connecting physical artifacts to information in the virtual world, such "physical hyperlinks" can serve as visible entry points into the information infrastructure, thus increasing accessibility and visibility of a virtual environment from within the physical world.
Narrowing the gap between the physical world surrounding the user and the virtual world requires a kind of "bridge" between entities in the real world and the associated information in the virtual world. Interaction with the virtual aspects of an entity requires a device which is able to detect the entity and display related information. Such a "symbolic magnifying glass" allows, for example, to make object relations visible, to access virtual functions of an object, and to virtually zoom into and out of an object in order to get to know the object details or the object's context, respectively. Physical objects thus become "interactive" in a way which formerly was only possible with purely virtual, computer-based objects.
See also the following related items:
Participating Researchers
Gábor Sörös, Christian Flörkemeier (until 2014), Christof Roduner (until 2014), Robert Adelmann (until 2012), Philipp Bolliger (until 2011), Steve Hinske (until 2010), Michael Rohs (until 2005)
Selected Publications
See the Publications of the Distributed Systems Group page for a full listing of our publications.
Related Student Projects
The following table lists corresponding student projects in our group. Note that some descriptions will be in German.
Type
Title
Student
Supervisor
Semester
L
Facial Augmented Reality
Andreas Hess
Gábor Sörös
HS 16
B
Visible Light Communication for Smartglasses
Pascal Josephy
Gábor Sörös,
Stefan Schmid
FS 16
B
Solfege Sign Recognition with a Wearable Camera
Julia Giger
Gábor Sörös
FS 16
M
Online Gyroscope-Camera Autocalibration for Image Enhancement on Smartphones
Luc Humair
Gábor Sörös
FS 15
L
Image Processing on Mobile GPU
Carlo Beltrame
Gábor Sörös
FS 15
B
Image Processing on Mobile GPU
Marc Fischer
Gábor Sörös
FS 15
B
Wearable Shopping Assistant
Mauro Guerini
Gábor Sörös
FS 15
M
Blur Removal from Document Images
Stephan Semmler
Gábor Sörös
HS 14
B
Multiframe Blur Estimation using Inertial Measurement Sensors
Severin Münger
Gábor Sörös
FS 14
B
Smart Playing Cards with Smart Glasses
Michael Franz
Gábor Sörös
FS 14
B
Developing a Multi-Level Visual Code
David Chettrit
Gábor Sörös,
Leyna Sadamori
FS 14
B
Rapid Object Reconstruction for Product Augmented Reality
Sandro Lombardi
Gábor Sörös
FS 14
B
A Biking Assistant on a Wearable Computer
Andy Zimmermann
Gábor Sörös
HS 13
B
Optical Character Recognition with a Head-Mounted Camera
Thomas Knell
Gábor Sörös
FS 13
B
A Magic Lens for Visualizing Device Interactions
Markus Schalch
Simon Mayer,
Gábor Sörös,
Marian George
FS 13
B
Motion Blur Compensation using Inertial Measurement Sensors
Carlo Beltrame
Gábor Sörös
FS 13
M
Optical Character Recognition on Mobile Phones (in cooperation with MIT)
Ekansh Anand
Christian Floerkemeier,
Gábor Sörös
FS 12
L
Uncovering Device Whispers
Bram Scheidegger,
Claude Barthels
Simon Mayer,
Christian Beckel,
Gábor Sörös
FS 12
B
Creating Briefings from Heterogeneous Sources (II)
Marco Poltera
Simon Mayer
FS 12
B
Verifying Cloud Encryption Credentials through Mobile Device Interactions
Marius Fehr
Iulia Ion
FS 12
B
Optical Character Recognition on Mobile Phones
Luc Humair
Christian Floerkemeier,
Gábor Sörös
FS 12
B
Creating Briefings from Heterogeneous Sources (I)
Raffael Buff
Simon Mayer
FS 12
B
Adaptive User Interfaces for Smart Things
Andreas Tschofen
Simon Mayer
FS 11
M
Crowdsourcing location information to improve indoor localization
Luba Rogoleva
Philipp Bolliger
HS 09
S
Entwicklung einer Sensor-Anwendung für Mobiltelefone (Sensing with Mobile Phones)
Adrian Helfenstein
Benedikt Ostermaier
FS 09
S
Prototyping a RESTPhone
Moritz Hartmeier
Benedikt Ostermaier
FS 09
L
Koubachi - iPhone Client
Mike Godenzi, Gilad Geron
Philipp Bolliger,
Moritz Köhler
FS 09
B
Redpin - Next Generation Server
Pascal Brogle
Philipp Bolliger
FS 09
B
Redpin - iPhone Client
Pascal Brogle
Philipp Bolliger
FS 09
S
Test-Robot for Mobile Phone Cameras
Dessovic Raoul
Robert Adelmann
HS 08
M
Integration of Mobile Phones into Smart Environments for Education and Entertainment
Roger Seidel
Steve Hinske
FS 08
M
Smart Environment Visualization and Interaction
Alex Suciu
Robert Adelmann
SS 07
L
Smart Notifier
Vlatko Davidovski
Benedikt Ostermaier
SS 07
S
"Mobile Phone Blogger", oder was sieht mein Natel?
Angelo Rosenfelder
Moritz Köhler
HS 07
S
Spatial Selection Using Mobile Phones
Breu Urs
Robert Adelmann
SS 06
S
Information Gathering
Ziroli Plutschow
Robert Adelmann
SS 06
L
WorldWindow Augmented Reality System
Steven Fluck,
Jonas Haller
Robert Adelmann
SS 06
S
Mobile Barcode
Bettina Polasek
Robert Adelmann
WS 05/06