ETH Zurich : Computer Science : Pervasive Computing : Distributed Systems : Research : M-Lab
M-Lab - The Mobile and Ubiquitous Computing Lab
A Research Project in Cooperation with the Distributed Systems Group
Ubiquitous computing is the basic technology behind the next innovation thrust to follow e-Business. Ubiquitous computing makes smart things possible, such as smart drugs, merchandise or car parts, transport containers or laboratory equipment. Smart things consist of classic physical products with integrated and largely invisible microelectronics, such as e.g. sensors, processors, transmitters and smart labels.
The M-Lab concentrates on identifying and creating effective business applications for smart things in the area of business-to-business — from the idea through to the prototype. Within this area its interest centers on the fields of life sciences, retail, automotive, and logistics. It has built up a critical mass of highly qualified researchers and practitioners in the field of ubiquitous computing, who move in international circles where technology and applications are concerned, and contribute towards the creation of short and medium-term competitive advantage.
The M-Lab is joint project of the HSG (University of St. Gallen) and the ETH Zurich (Swiss Federal Institute of Technology). Several companies work together with Prof. Elgar Fleisch (business management) and Prof. Friedemann Mattern (computer science) and a core team of PhD students on specific company-related problems and general issues associated with ubiquitous computing.
The list of past and present project partners includes the following companies: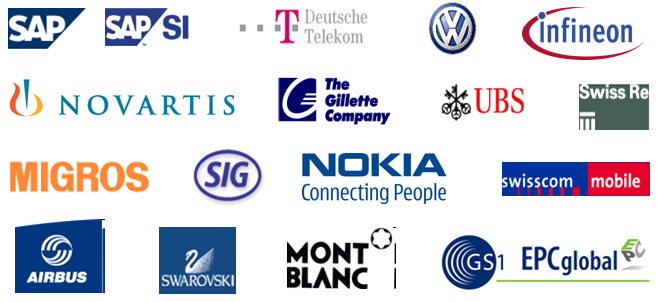 Starting out as a pioneer in bringing together academic and industrial research in RFID and other ubiquitous computing technologies, M-Lab identified important research questions in different areas. These questions laid the foundation for a number of other projects and initiatives, such as the Bits to Energy Lab, the Fosstrak EPC Network middleware, or the Auto-ID Lab Switzerland, that continue and expand the work initiated by M-Lab.
This project ended in December 2008.
See also the following related items:
Selected Publications
See the Publications of the Distributed Systems Group page for a full listing of our publications.
Related Student Projects
The following table lists corresponding student projects in our group. Note that some descriptions will be in German.