ETH Zurich : Computer Science : Pervasive Computing : Distributed Systems : Research : BTnodes
BTnodes - A Distributed Environment for Prototyping Ad-Hoc Networks
A Research Demo of the Distributed Systems Group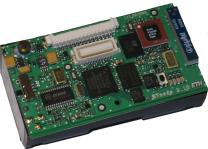 The BTnode is an autonomous wireless communication and computing platform based on a Bluetooth radio and a microcontroller. It serves as a demonstraton platform for research in mobile and ad hoc connected networks (MANETs) and distributed sensor networks. The BTnode has been jointly developed by the Computer Engineering and Networks Laboratory (TIK) and the Research Group for Distributed Systems at ETH Zurich. The BTnode is primarily used in two major research projects: NCCR-MICS and Smart-Its.
More information is available at the BTnodes Homepage.
This demo was created in January 2004.
See also the following related items:
Selected Publications
See the Publications of the Distributed Systems Group page for a full listing of our publications.
Related Student Projects
The following table lists corresponding student projects in our group. Note that some descriptions will be in German.