ETH Zurich : Computer Science : Pervasive Computing : Distributed Systems : Research : UbiGate
Interfacing the Real World with Ubiquitous Service Gateways
A Research Project in Cooperation with the Distributed Systems Group
The widespread usage of mobile phones provides the opportunity to connect smart appliances and sensors to a cellular operator's service infrastructure and the Internet. In collaboration with NTT DoCoMo Euro-Labs, we investigated applications and middleware concepts for the use of mobile phones as ubiquitous gateways interfacing various kinds of sensors, sensor networks and smart appliances.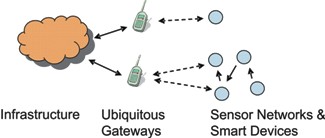 As part of this project, we developed a system for monitoring and locating everyday items using mobile phones. The system, based on phones which are augmented with the capability to detect electronically tagged objects in their vicinity, supports various functionality. Mobile phones trace registered objects, distribute useful context information related to these objects, and are able to locate them when lost or misplaced. For locating a misplaced object, we provide an algorithm that incorporates arbitrary application specific knowledge (such as past locations of the misplaced object) to select a subset of sensors for a given object search query.

Based on this application, the project demonstrated how the unique properties of mobile phones and the cellular network enable novel applications that aggregate sensor measurements on a large scale. In the course of the project, we identified and addressed novel research challenges posed by such wide-area interconnection of a large sensor array.
This project ended in February 2007.
Selected Publications
See the Publications of the Distributed Systems Group page for a full listing of our publications.
Related Student Projects
The following table lists corresponding student projects in our group. Note that some descriptions will be in German.