ETH Zurich : Computer Science : Pervasive Computing : Distributed Systems : Research : Smart Playing Cards
Smart Playing Cards - A Personal Assistant for Beginners
A Research Demo of the Distributed Systems Group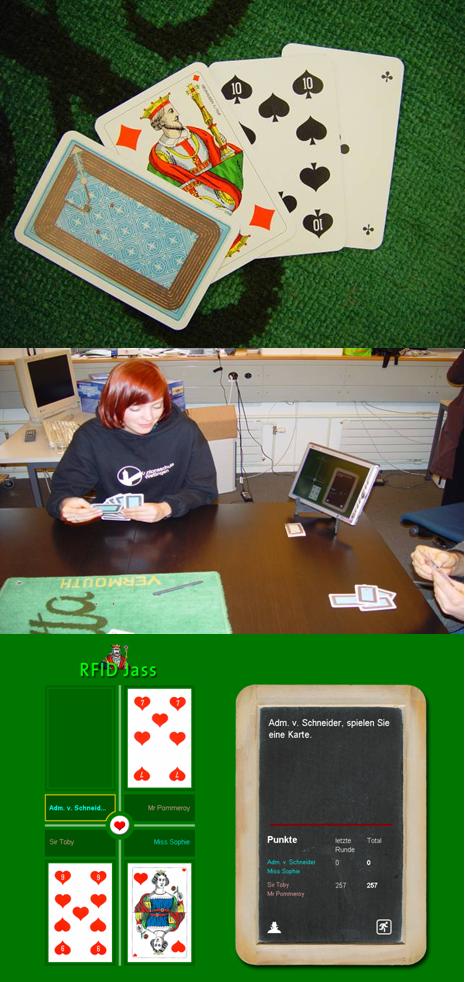 In contrast to developing new games around the abilities of available technology, we took the opposite approach by augmenting a classical game with new IT functionality. According to our vision, users play a classical card game (e.g., the game of whist) with the usual "look and feel" and corresponding social interactions. Additionally, they are equipped with a small information appliance (ideally of the same size as a playing card) that displays game related information (score, winner) and gives hints (cheat alarm, playing hints).
In our prototype the played cards, marked with RFID tags, are detected by an RFID antenna which is placed under the table and connected to the game server running on a desktop or tablet PC. Each player can then get player-related feedback displayed on a PDA (e.g., an HP iPAQ handheld device) that shows visual real-time comments on the player's moves in real-time.
This demo was created in June 2005.
See also the following related items:
Selected Publications
See the Publications of the Distributed Systems Group page for a full listing of our publications.
Christian Floerkemeier, Friedemann Mattern
Smart Playing Cards – Enhancing the Gaming Experience with RFID.
Proceedings of the Third International Workshop on Pervasive Gaming Applications - PerGames 2006 at PERVASIVE 2006. pp. 27-36, Dublin, Ireland, May 2006
Abstract, BibTeX, Paper (.pdf)


Kay Römer, Svetlana Domnitcheva
Smart Playing Cards: A Ubiquitous Computing Game.
Personal and Ubiquitous Computing, Vol. 6, No. 5-6, pp. 371-377, 2002
Abstract, BibTeX, Paper (.pdf)


Related Student Projects
The following table lists corresponding student projects in our group. Note that some descriptions will be in German.