ETH Zurich : Computer Science : Pervasive Computing : Distributed Systems : Research : Privacy
Privacy-Aware Ubiquitous-Computing Systems
A Research Topic of the Distributed Systems Group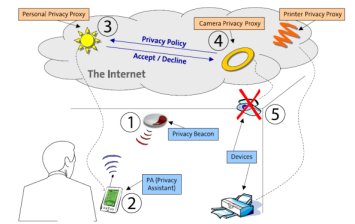 What lies at the intersection of privacy protection and ubiquitous computing is easy to imagine: the frightning vision of an Orwellian nightmare-come-true, where countless "smart" devices with detailed sensing and far-reaching communication capabilities will observe every single moment of our lives, so unobtrusive and invisible that we won't even notice! With daunting Orwellian visions looming, it is easy to conclude that tamper-proof technical protection mechanisms such as strong anonymization and encryption are the only solutions to such privacy threats. Obviously, the less data is collected, the fewer privacy invasions can occure. However, perfect protection for personal information will hardly be achievable, and the interconnectedness of our daily tasks will render many of the envisaged security schemes largely impractical in our everyday routines.
Instead, we propose to build systems that help others to respect our personal privacy, enable us to be aware of our own privacy, and to rely on social and legal norms to protect us from the few wrongdoers. We are developing a privacy awareness system targeted at ubiquitous computing environments that allows data collectors to both announce and implement data usage policies, as well as provide data subjects with technical means to keep track of their personal information as it is stored, used, and possibly removed from the system. Even though such a system cannot guarantee our privacy, we believe that it can create a sense of accountability in a world of invisible services that we will be comfortable living in and interacting with.
See also the following related items:
Participating Researchers
Iulia Ion (until 2012), Marc Langheinrich (until 2008), Michael Rohs (until 2005)
Selected Publications
See the Publications of the Distributed Systems Group page for a full listing of our publications.
Related Student Projects
The following table lists corresponding student projects in our group. Note that some descriptions will be in German.