ETH Zurich : Computer Science : Pervasive Computing : Distributed Systems : Research : Chatty Environment
The Chatty Environment
A Research Demo of the Distributed Systems Group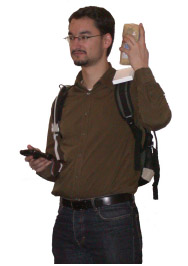 The Chatty Environment is a system designed to help visually impaired and blind people to lead a more independent life and better orient themselves in unknown environments by enhancing the world with spoken information. To achieve this goal, the various entities of the Chatty Environment are electronically tagged, thus being detectable by a suitable reading device. A virtual aura emerges around the tagged objects, in which these are electronically detectable by a suitable reading device. The reader communicates with the user's mobile device (e.g., an HP iPAQ), that mediates the interaction between user and smart environment.
This demo was created in September 2003.
See also the following related items:
Selected Publications
See the Publications of the Distributed Systems Group page for a full listing of our publications.
Related Student Projects
The following table lists corresponding student projects in our group. Note that some descriptions will be in German.